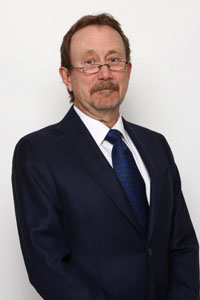 DR JAMES FARGHER, a native of Sarnia has been a periodontist in Sarnia since 1982. He attended the University of Western Ontario for his Dental Degree. He did a General Practice Residency with the University of Illinois at Illinois Masonic Medical Centre in Chicago. Following a year of teaching Hospital Dentistry with the University of Toronto he attended Dalhousie University in Halifax for his post-graduate training in Periodontics.
Dr. Fargher and his wife Carol of 36 years have a daughter Christie and a son Brendan.
"Jay" and his wife enjoy skiing, travelling to Italy, biking, fly-fishing the Mirimichi, cooking, gardening, old world wine, the Lake Huron sunsets and Airdales. Jay also enjoys classical music, fly tying, golf, hunting, playing hockey and running.
Dr Fargher has been a Lecturer and Clinical Instructor at the UWO Dental School, a past president of the Ontario Society of Periodontists and the Lambton County Dental Society and has been involved with numerous committees at the Ontario Dental Association and the Royal College of Dental Surgeons of Ontario.
He has been involved with local charities as a board member for the Kidney Foundation and the Sarnia General Hospital Foundation. He has enjoyed coaching youth soccer and hockey over the years as well.
Dr Fargher is a member of the Canadian Academy of Periodontology, Ontario Society of Periodontists, Canadian Dental Association, Ontario Dental Association, and the Lambton County Dental Society.